Animation Start-ups Get a Head Start with Support Program
Twenty aspiring local animation start-ups will receive a boost from the "1st Animation Start-ups Support Program" over the next five months to produce their original animation works, which will be shown on various platforms to seek new business opportunities.
Jointly launched by the Hong Kong Digital Entertainment Association (HKDEA) and Hong Kong Productivity Council (HKPC), sponsored by Create Hong Kong (CreateHK) of the Government of the Hong Kong Special Administrative Region, the "1st Animation Start-ups Support Program" is tailor-made for companies with no more than four years of history and eight full-time staff.
The Support Program was warmly welcomed by the local animation start-ups with over 60 applications received. Out of these applications, 20 are selected to join the Support Program after thorough deliberation by a vetting committee convened by industry professionals. The list was announced at the Launching Ceremony of the Support Program held today (5 September 2012) (annex for full list).
Speaking at the Launching Ceremony, Mr Gabriel Pang, Chairman of HKDEA, said, "Local small animation start-ups excel in creativity and technical skills. With this Program, they can turn their original ideas into animations, and pave the way for future development in areas such as strategic planning, animation film production and licensing. Ultimately, it will lead them to new markets and opportunities."
Mr Jerry Liu, Head of CreateHK, said, "CreateHK is dedicated to support local creative industries. One of our main strategies is to facilitate the development of creative start-ups. We are pleased to learn that the Support Program received positive feedback from the animation sector. It will help start-ups tackle the common difficulties such as the lack of capital and distribution channels.  The Support Program is strategized to provide the resources and channels for animation start-ups to establish their own brands, which is essential in the development of Hong Kong asAsia's animation centre in the long run."
Mrs Agnes Mak, Executive Director of HKPC, said, "HKPC is committed to supporting local SMEs and the creative industries. At our newly-established one-stop support centre, SME One, enterprises can conveniently obtain information on related support schemes and services of the Hong Kong and Mainland governments, financing options in the private sector, and the latest IT applications, as well as free consultation and online enquiry service. SME One is the ideal businesses partner best online casino of animation start-ups."
The Support Program provides a production subsidy of up to $80,000 to each of the 20 selected animation start-ups to produce a 3-minute animation with storyline. The companies will also receive technical training on animation, and be benefitted from a mentorship program with animation heavyweights, who will act as the mentors of these companies and offer guidance on both production techniques and business development.
The final productions of these companies under the Support Program will be shown on TV, the Internet and major events, such as the Hong Kong International Film & TV Market (FILMART), starting from February 2013 to reach out for potential clients. In addition, they will be nominated to participate in international digital entertainment competitions, such as "DigiCon6 Awards" organized by Japanese broadcaster Tokyo Broadcasting System (TBS) Television.
For more information about the Program, please visit the website: https://www.animation-ssp.com/, or contact Miss Norelle Lai of HKPC at (852) 2788 5779 or email: norellelai@hkpc.org. For other media enquiries, please contact Mr Felix Chan of HKPC's Corporate Communications Division at tel.: (852) 2788 5036 or email: felixchan@hkpc.org.
*                      *                      *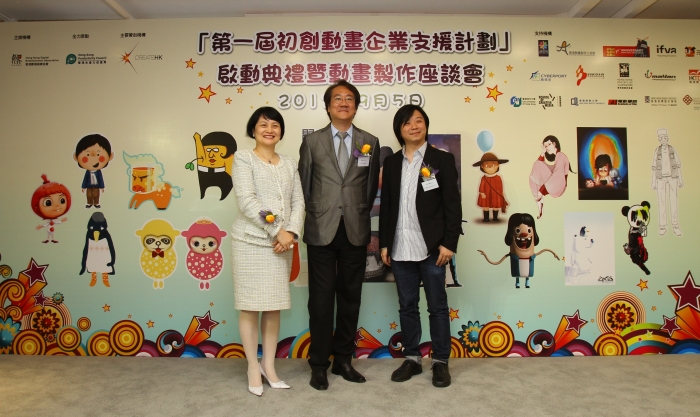 (left to right): Mrs Agnes Mak, Executive Director of Hong Kong Productivity Council; Mr Jerry Liu, Head of Create Hong Kong; and Mr Gabriel Pang, Chairman of Hong Kong Digital Entertainment Association, introduce the selected animation start-ups of the "1st Animation Start-ups Support Program" at the Programme's launching ceremony

Group photo of the officiating guests, animation start-ups' representatives, programme committee members and mentors
*                      *                      *
5 September 2012

Annex
Participating Companies of "1st Animation Start-ups Support Program"
(In Alphabetical Order)
| | |
| --- | --- |
| Animotion Studio Limited | MicA Digital Limited |
| Axis Studio Limited | minimind studio limited |
| Be Bloom | Morph Workshop |
| Bighead Animation | NOVA Studio |
| Born to Entertain Studio | NUWK Studio |
| BUBBLEWRAP | Passion Frame |
| Current Creative Limited | Penguin Lab Limited |
| DejaVu Creative | SOWA Concepts Studio |
| Heart Pictures Studio | tinyWork |
| Intoxic Studio Limited | Treehouse Studio |
Mentorship Program
Mentors
Mentees
Mathew Chow

Managing Director, Simage Animation & Media Ltd

Bighead Animation

minimind studio limited

Morph Workshop

Passion Frame

Neco Lo

Member, Hong Kong Animation Filmmaker Society

Born to Entertain Studio

Heart Pictures Studio

NUWK Studio

Naveen Ma

Lecturer, Hong Kong Design Institute

Intoxic Studio Limited

Animotion Studio Limited

tinyWork

Alan Wan

CEO, Anitime Animation Studio

Be Bloom

Current Creative Ltd

DejaVu Creative

Eddy Wong

Director, Menfond Electronic Art & Computer Design Company Ltd.

Axis Studio Limited

BUBBLEWRAP

NOVA Studio

Toe Yuen

Director of "My Life as McDull" and "McDull, Prince de la Bun"

MicA Digital Limited

Penguin Lab Ltd

SOWA Concepts Studio

Treehouse Studio

Christopher Thomas

sound specialist